• chefs • comal • cooking • fire forms • gift for cooks • gifts for chefs • gil romero • griddle • hot plates • kitchen decor • kitchen gifts • new mexico true • not your mama's comal • southwest cuisine • unique gifts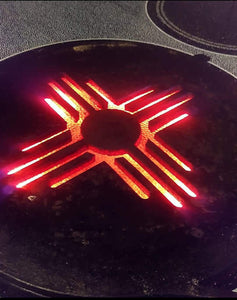 It's the most important part of  New Mexican/Mexican cuisine!
If you've never had a warm, fresh tortilla with real butter you don't know what you're missing! Also, one of my favorite ways to eat tortillas, preferably fresh also, is with a whole, peeled, or peeled and chopped, roasted green chile with a little salt and garlic. Pure heaven.
Like most cooks, my mama had one of those cast iron comales and it's still going strong but the comales we make here at Fire Forms are not made of cast iron. They're made of 3/16 inch steel, either hot roll or cold roll, and we've added a twist – beautiful designs are cut into the comal and if you're interested in...