By Award Winning Artist Gil Romero...
It's Not Your Mama's Comal!
We know what it's not but what IS it?
If you're not familiar with the function of this beautiful work of kitchen art, check out our blog post, What is a comal, you ask?
ANNOUNCEMENT: All of our comales are now hot roll or cold roll sandblasted with a satin finish. Images on product pages might not reflect the final product. Rest assured they are as beautiful and functional as ever!
Featured Not Your Mama's Comal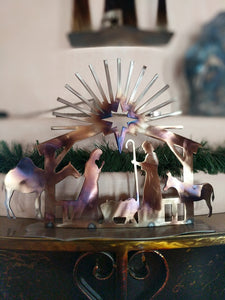 Order Yours Today!
Give the gift of a beautiful, hand finished, artistic Nativity Scene ... a perfect gift any time of year!
Order Now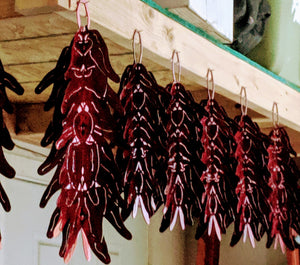 Now Offering Our BEST Prices! Everlasting Chile Ristra!
By popular demand we are offering our everlasting chile ristra for purchase online. Previously only available offline via custom order we are now carrying limited number of these in stock. We're also offering great deals on these beauties! Get yours today!
Order Now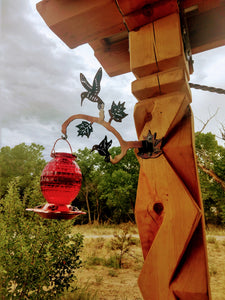 Introducting Our Hummingbird Feeder Hanger!
Our new design is more compact, with a reduced price but still as beautiful as ever!
Order Now

NOW AVAILABLE, Our Custom Hitch Steps!
Enhance your 4X4 truck or SUV with these custom hitch "Step-Ons". Functional art, this piece is completely fabricated by the artist. It has a non-slip surface for stepping onto the back of the truck. Or just use it as a decorative item. We accept custom orders.
Order Now
Our Namesake Flagship Product, the Fire Form!
It's almost that time of year! Enhance your heat source and living space with this beautiful "fire form". This was the invention of Fire Forms artist Gil Romero, to enhance our Blaze King fireplace insert. It fits snugly in front of the glass of your wood, gas, or electric heat source. Choose from several different designs and save when you order 2 or more! Click here for more information and to select your fire forms! Use the code 2FireForm50 for $50 off two and 3FireForm100 for $100 off three!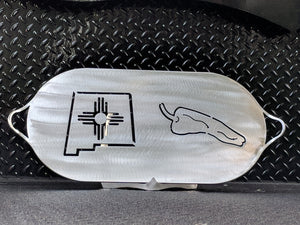 Double Not Your Mama's Comal
Sale price
$116.00
Regular price
$155.00
Full details →
---
Share this Product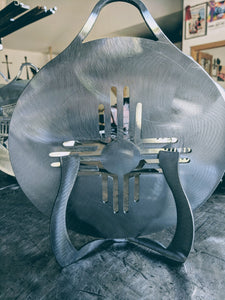 Fire Forms
Stand for Not Your Mama's Comal
All Things New Mexico!
Hecho en Nuevo... We're a very small "mom & pop" shop based out of Northern New Mexico, USA, with great pride in our cultur and our ability to provide beautiful works of unique metal art focusing on Southwestern themes! #supportsmallbusiness
Blog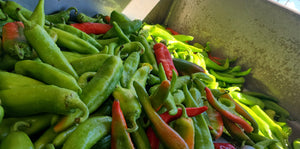 This time of year evokes many images, scents, and feelings for me and this is mainly because of the unique culture of New Mexico. "Fall is in the air", and...
About Blog Comments
While we moderate blog comments we are not actually notified of them unless we actively seek them out. Please note that any questions you have regarding our products should be directed to info@notyourmamascomal.com, as we do not have a way to reply to individual comments. Thank you!